OUR STORY
"Cera comes from ceramic"
It started with the love of ceramics, which then turned into our inspiration and our foundation idea for creating a special, unique and unforgettable experience for our guests.

Situated in Haad Sooksamer, Cha-am, Thailand, a private, peaceful, and relaxing beach. Cera could be a warm, sincere and lively beach home for everyone. It is a place where you can feel comfortable and relaxed, because of the warm welcoming smiles of our staff and the ceramic decorations used throughout the hotel, from small signs to tables and jars.

To reflect the aesthetics and colorfulness of ceramics, each room is unique and decorated in a different color. Our signature ceramic tub, which is made by Tao Hong Tai (the oldest and most famous ceramic factory in Thailand) is placed in each room to open our guests to the new experience of a ceramic hotel

Our guests can also enjoy our fine Thai and European cuisine prepared by our excellent chefs.
ACCOMMODATION
"Inspired by modern art"
Inspired by modern art, our guest rooms, suites, including bathrooms made
"Ceramics" by "Tao Hong Tai Ceramics Factory" in Ratchaburi.
CERA CUISINE
"A tasteful experience in a cosy atmosphere"
Our freshly prepared foods and homemade bakeries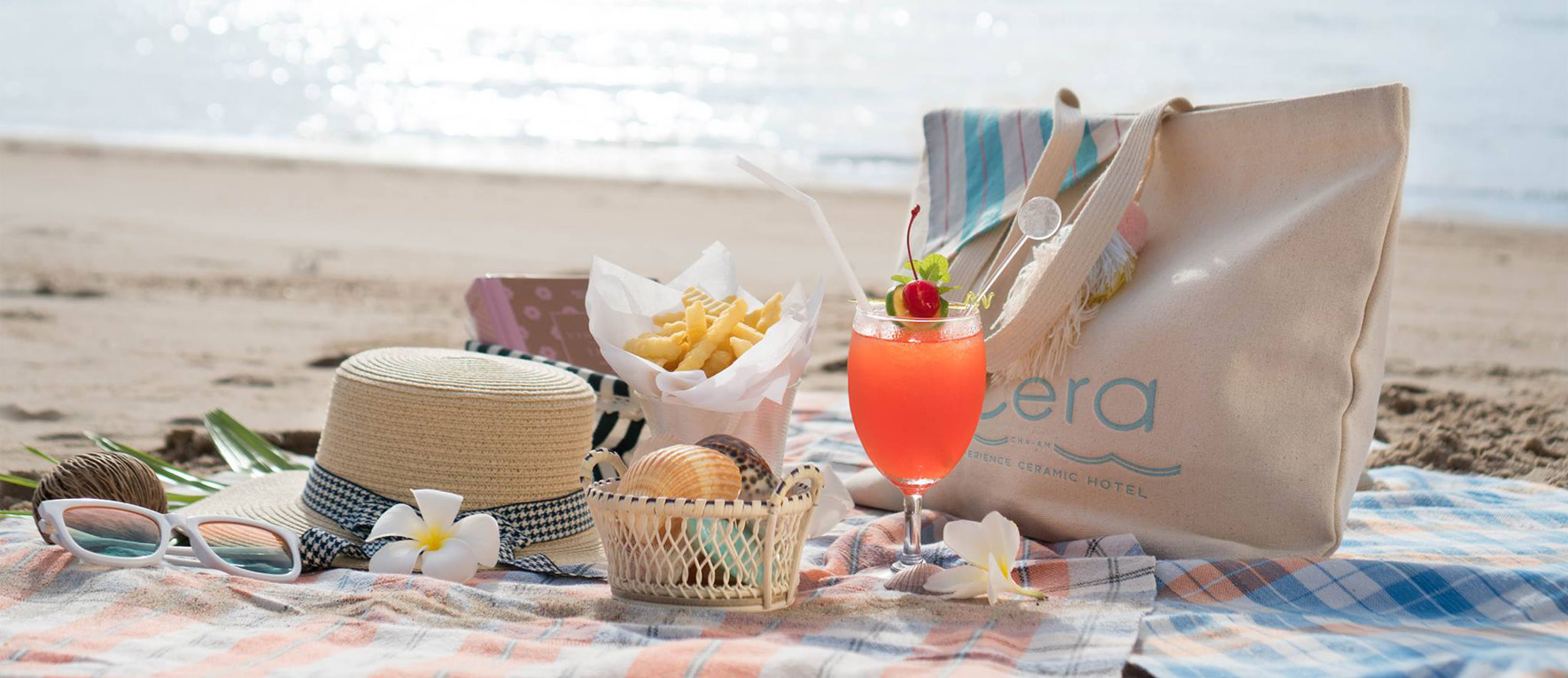 Experience our property's unique highlights
our freshly prepared foods and homemade bakeries
Location & Map
Situated approximately 180 Km from Bangkok and 20 Km away
from the centre of Hua Hin town
1 min (100 M) Hotel Beach
10 min (5 Km) Marukkatayawan
20 min (20 Km) Night Market
20 min (20 Km) Palm Hill Golf
30 min (30 Km) Huay Mongkol temple
5 min (10 Km) Cha-am Beach
19 min (20 Km) Plearnwan
20 min (15 Km) Spring Field Golf
30 min (30 Km) Kao Takiab, Kao Tao
30 min (30 Km) Wine yard/elephant village